There are
a zillion books that make use of Fritzing
to illustrate circuits, but this one is the first on fritzing itself. We're honored that the one and only
Simon Monk
, author of many a maker book, took it up and created the ultimate guide for using fritzing to "take your electronics project from prototype to product." We provided technical review for the book, so you can be sure it's using all the tricks.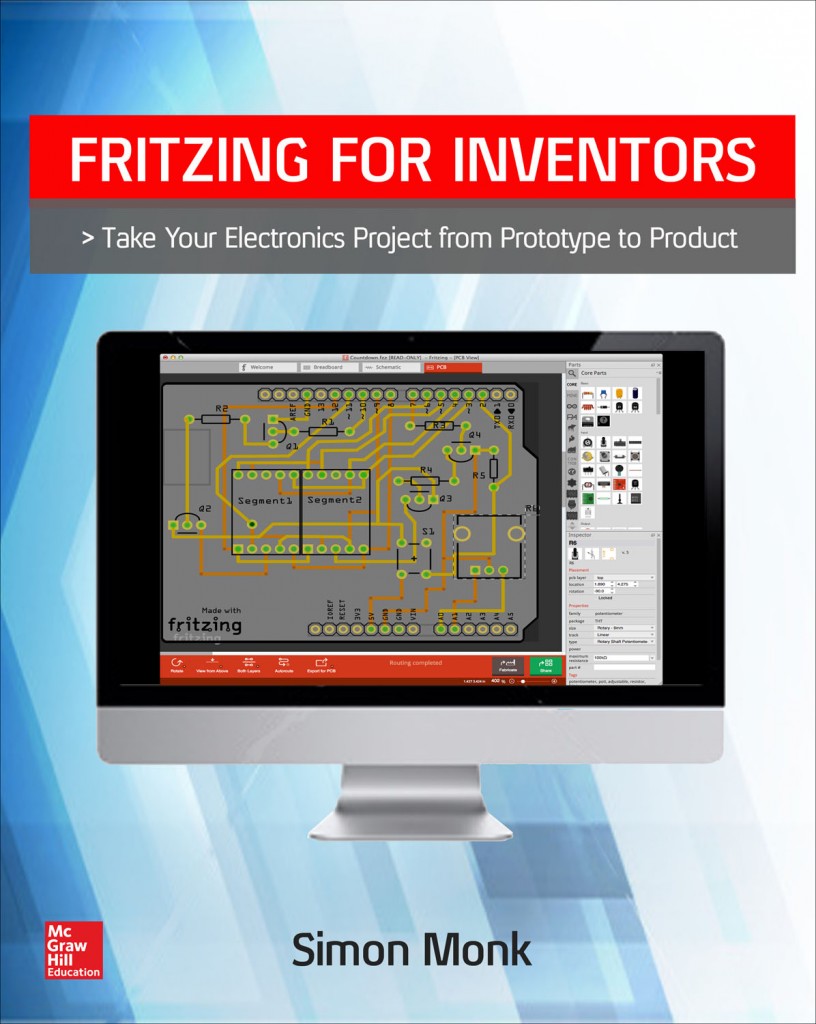 It does a really great job at  giving a quickstart introduction. Then it walks you through each of Breadboard/Schematic/PCB view in detail, and also gives you background tips on approaching electronics projects in general, reading datasheets, etc. The second half of the book focuses on PCB design and production all the way to testing and distribution. It's all very thorough and keeps a great balance between bird's eye and detail discussion. So it's not just a  software reference, but a really practical handbook on creating prototypes and using Fritzing as the central tool for that. All in all,
"Fritzing for Inventors"
might be a great holiday read. Here's the full table of contents (the one on the publisher's website seems to be from a draft version):
Ch 1. Introduction to Fritzing
Ch 2. Quickstart
Ch 3. Electronic Invention
Ch 4. Breadboarding
Ch 5. Schematic Desgin
Ch 6. PCB Layout
Ch 7. Fabrication
Ch 8. Fritzing Arduino (and Other Boards)
Ch 9. Custom Parts
Ch 10. Example Projects
Ch 11. Testing
Ch 12. Funding and Distributing
Appendix: Resources