Your trusty PCB production service is taking a big step! Effective today, Fab is powered by AISLER, a smart and affordable electronics manufacturing service.

Yes, Fab has always been that, but with the support of our new partner, this will improve on all levels:
Smart

: Fab now automatically renders high-res previews of your Fritzing files, so it's much easier to check for mistakes. Plus it acts as a repository for your projects, enabling you to revise and share.

Affordable

: The prices per cm

2

are radically lowered, the checking fee is gone, shipping is free from 30€ – and you will get 3 copies per default. (Example:

1 Arduino Shield

with the old Fab used to cost 42€ when ordering from Germany, now it's 31€ and you'll get 3!)

Manufacturing

: The PCB is of even higher quality (three times as precise and with gold contacts) and still proudly made in Germany. Very soon you'll be able to order parts alongside the PCB, and more services are on the roadmap.
The guys at AISLER made this an easy choice for us. Not only do they offer these excellent specs, but they also share the same friendly maker attitude all the while putting quality first. They are also based in Germany, in the up and coming Euregio area at the Dutch border.
And they're on a mission to build the production service we always wanted: The PCB is only the first step, next is parts, and eventually you'll be able to order full projects - even assembled if you like. The ultimate goal is to create a maker market where you will get a share when somebody else produces your designs.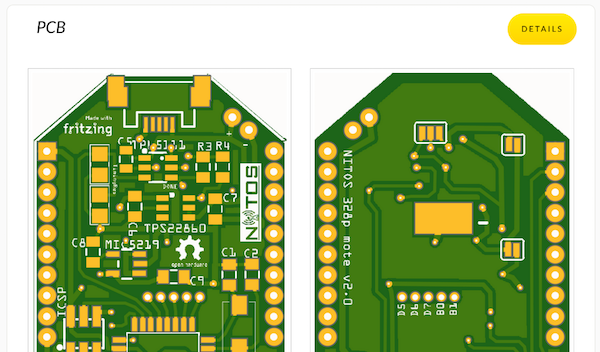 A live preview of your board (Thanks to NITOS for providing these beautiful board designs)
With every change one has to say goodbye to a couple of things one has come to love. The
black on white
design will be replaced by the more standard
white on green
(aka "professional looks"). We made sure it's beyond what you get elsewhere, with matte green finish and golden pads!
Give it a spin at
fab.fritzing.org
– we hope you'll enjoy the new service!