Fritzing 1.0.1 was released on Wednesday, 06th of September 2023. We tested it for Windows 11, Windows 10, macOS Ventura, macOS Monterey, macOS BigSur, Ubuntu 20.04, and Ubuntu 22.04.
Summary
This is a maintenance release, with some fixes. The most obvious fix is for the broken mouse pointer when non integer zoom settings are used. This affected Fritzing on Windows Notebooks with custom zoom settings. Also, with this version, the new IPC export should actually become usable.
New part
Only a few parts were updated. We added an Arduino sized board with a cutout for the display. The R4 WIFI has quite a lot of features already onboard. But for sure you have something to add? Here is a shield for it: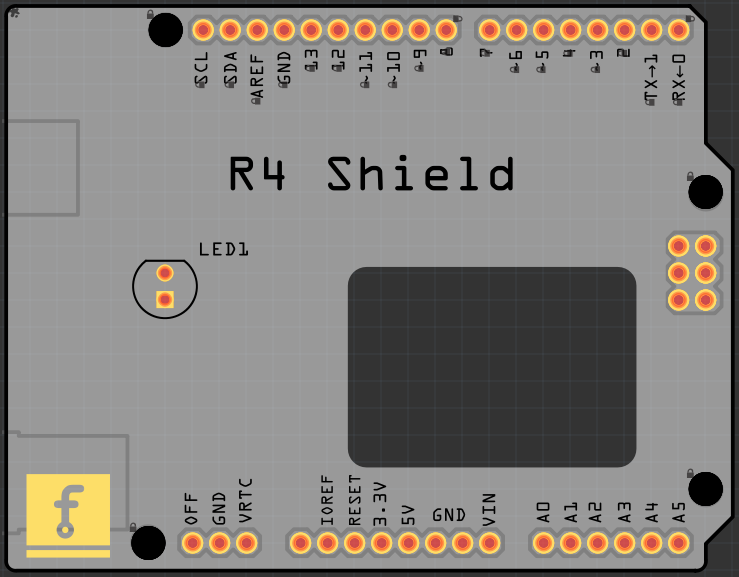 Fixes and Improvements
Fixed issues:
#4023 Redundant entry in fz file
#4036 Trace width lost on Undo
#4037 Mouse cursor distorted on Windows
#4041 Workaround for pixel errors during Gerber export
#4050 IPC Export not working
#4051 Entering coordinates in Inspector not working
#4058 Wire connections not working after double click
Improvements to the SVG Flattener:
Support scaling the stroke-dasharray attribute
Support for inherited fill attributes
Improved viewBox calculation with non-zero x and y values.
UI:
Repaired 'Paste in place' command
Keep focus on part after package change
Improved Spanish
Completed Portuguese, thanks to Bruno
Improved Italian, thanks to Sophie
Updated Japanese translation with automatic translation
The release is available in our downloads section. We highly recommend updating to this version to benefit from the latest improvements.