End of 2019, we crafted a maintenance release of Fritzing, version 0.9.4. There was no announcement on this blog, as things were quite in movement. So, as we add it, the following is old news.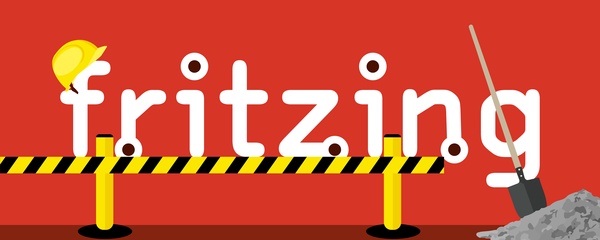 Version 0.9.4 is a maintenance release. There are few new features, but we fixed some of the bugs.
Critical bug fix for autorouter
Fixed a memory corruption that would cause random crashes. Thanks to Filipp Mikoian for your help.
Color-coded wires
A new option was added to colorize wires according to their length automatically.
Transport Layer Security
Long overdue, Fritzing now uses transport layer security for all links. This will mostly affect the part updates, since parts are hosted at github, and they will not allow unsecured access for much longer. For some time, the Fritzing website continues to allow HTTP for older versions of the Fritzing application. This way, update checks, and the projects gallery will continue to work.
Fix a bug where Fritzing would potentially search the whole disk for parts
Depending on installation location, Fritzing might try to search many subfolders for its parts. Depending on the machine's speed and directory structure, this would take a long time, during which Fritzing would show "Application does not respond" or similar. The workaround was to wait about ten minutes until it finishes, as it only happens on the first start. This annoyed many users, our apologies, this behavior should be fixed now.
No 32 bit builds
We don't provide 32 bit builds of Fritzing anymore. It might still be possible to build for 32 bit.
Under the hood
We dropped Qt4 support
Continuous builds for Linux, MacOS, and Windows. This means faster release cycles in the future.
Use libgit 0.28.1
New/updated Translations
Russian thanks to Alexey Loginov
Indonesian, thanks to Rizqy H
Slovak, thanks to jose1711
Slovenian, thanks to Filip Stamcar
German
French
Bulgarian, thanks to Lyubomir Vasilev
Thanks to Chris Mayo, Peter Van Epp, Ben Williams, Michael Anderson, and Roman Vekshin. Thanks to the guys at Aisler.net, without whom this release would not have been possible.