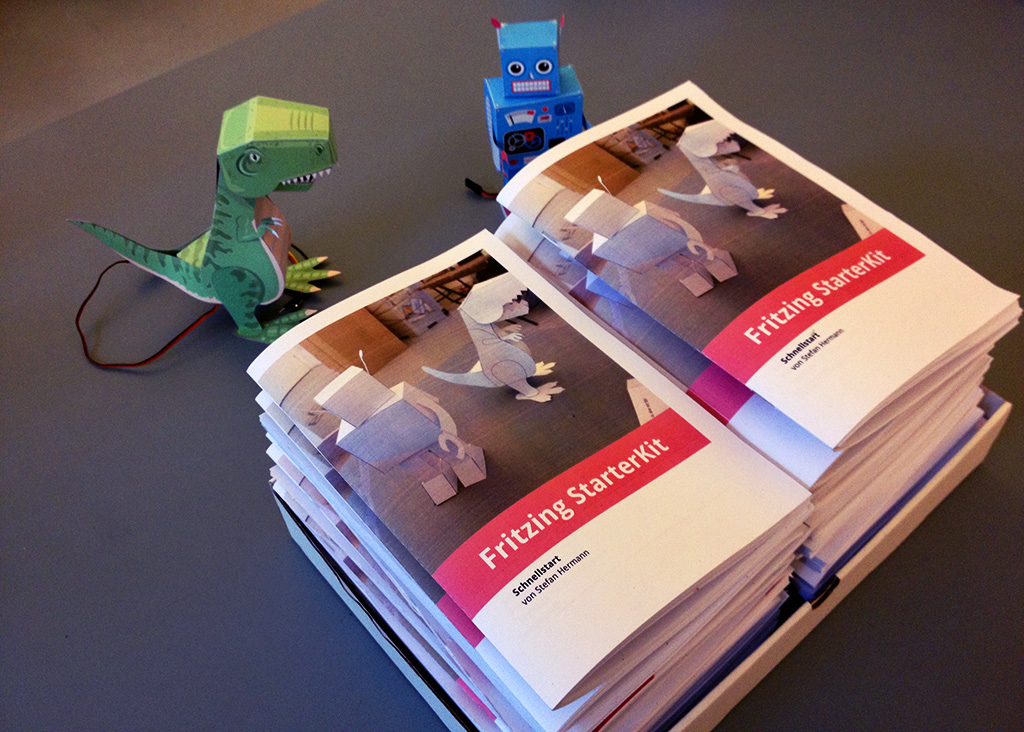 Dinosaurier and Roboter marvel at the pre-versions
DE: Früher Morgen in Fritzing Land. Auf meinem Schreibtisch stapeln sich schon die Vorab-Exemplare der Fritzing StarterKit Dokumentation, die die liebe Patricia bis in den späten Abend hinein gedruckt und geheftet hat. Einen guten Titel braucht das Heft noch und viel wichtiger, einen Test in größerem Rahmen.
Hierfür wird unser Fritzing-Gründer Reto Wettach 25 der neuen Prototyp-StarterKits mit zur FH Potsdam nehmen und im diesjährigen Physical Computing Kurs testen. Die Ergebnisse fließen dann direkt in die StarterKits ein und bilden das Finish des neuen Kits.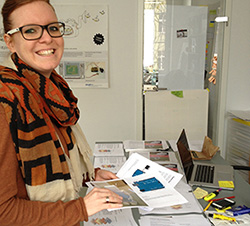 Patricia producing the documentation
Nachdem ich zwei Monate an der Konzeption und der Doku gefeilt und gedocktort habe, bin ich natürlich ziemlich gespannt, was heraus kommen wird.
Auf jeden Fall halte ich Euch auf dem Laufenden!
EN: Early morning in Fritzing Land. On my desk the new preview documentations for the new Fritzing StarterKit printed and produced till the late evening by the kind Patricia. The book still needs a good title, but first of all, they have to be tested.
The Fritzing founder Reto Wettach will take 25 of the prototyp StarterKit to the university of applied science Potsdam and use them for this years Physical Computing course. The results will directly go into the finish of the Kits.
After spending two month in the concept, development and the documentation I'm very excited.  Of course I will keep you up to date!