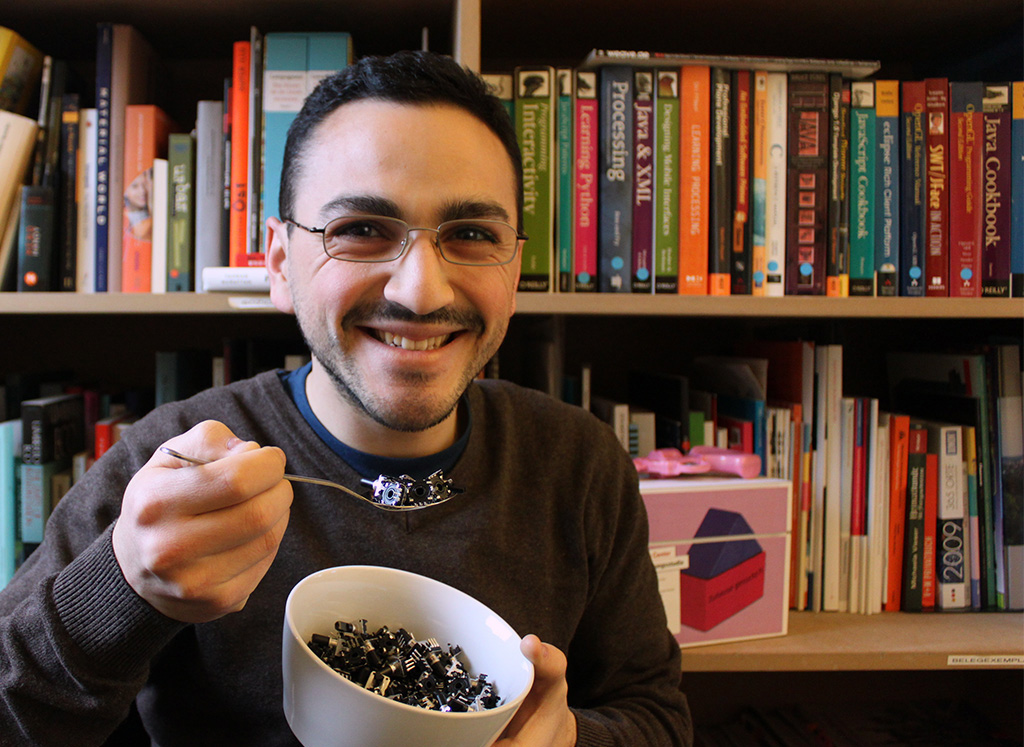 DE: Heute möchte ich Amin vorstellen. Seit dem Herbst letzen Jahres kümmert er sich um die Operations bei Fritzing. Geboren ist Amin in Tunesien, einem liebenswürdigen und sonnigen Land am Mittelmeer.
Mit sechs Jahren war es ein LEGO-Flughafen der Amins technisches Interesse weckte. Später, nach seinem Studium des Umwelt- und Ressourcen-Managements in Cottbus (Schwerpunkt Solarenergie und Energieökonomie), gründete er sein eigenes Unternehmen (optimalabs.de) und sammelte wichtige Erfahrungen, die er jetzt in die Arbeit bei Fritzing einbringt.
Nebenbei stellt Amin zurzeit seinen Prusa i3 3D Drucker und einen Tricopter fertig. An den Wochenenden arbeitet er an seinem open energy monitor project.
Um zu beschreiben, was Amin für ein Typ ist, könnte man sagen, dass er – neben Lebenserhaltungssystemen natürlich – vor allem Sonnenmilch, eine Hängematte und einen Kasten Club Mate mit auf eine Reise zum Mars nehmen würde.
Willkommen nachträglich, Mr. Amin!
EN: Today, I like to introduce Amin to you. Since autumn he takes care for all the operations at Fritzing. He was born in Tunisia, a lovely and sunny country on the Mediterranean.
When he was six years old a LEGO airport generates his interest in technology. Later, after his studies of Environmental and Resource Management at the Technical University in Cottbus (focus on solar energy and energy economics) he founded his own company (optimalabs.de). The experiences he made are now coming into the daily work at Fritzing.
By the way, he is finishing his Prusa i3 3D printer and his Tricopter. On weekends, Amin is working on variation of the open energy monitor project.
To describe, what kind of guy Amin is we can say that he would take sun cream, a hammock and a box of club mate on a voyage to the mars (beside life support of course).
Belated welcome Amin!