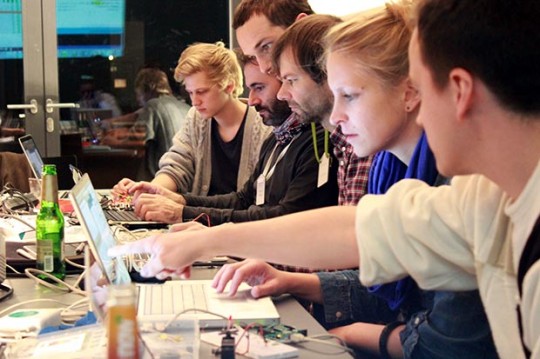 Last weekend we had the pleasure to be invited to the Create. Art and Technology festival in Berlin.
André held a talk about »Frizting – creative electronics for the rest of us« and we gave two intense Fritzing workshops in which people could learn the use of Arduino and Fritzing.
The conference was initiated and organised by our ever-enthusiastic friends Anton Mezhiborskiy from TINKER SOUP and Stefan Canditt from FORMULOR. Great job, guys! Talks on prototyping, wearables, materials, playing, and sensing gave the right inputs and visitors could join workshops such as lasercutting with vvvv, soft circuits,  playing with CUBELETS or – of course – Fritzing.
It was great to meet so many interesting and interested people and we enjoyed this time a lot. Our special treat was to meet several people from the Fritzing forums - it's so much nicer to meet in person! Some of them even showed off their beautiful Fritzing Fab creations. We are all looking forward to Create. Art and Technology 2012 (hint, hint)!