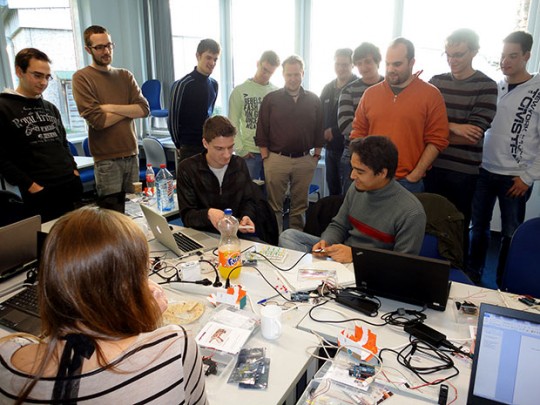 We arrived on a sunny morning at the train station in Elmshorn (a beautiful village in the north of Hamburg). Martin Hieronymus, who teaches there and invited us, picked us up and took us to the Nordakademie. Sixteen business computer science students already waited to get in touch with electronics and Fritzing. André started by introducing Fritzing and what it is all about. He explained the concept of physical computing and tangible user interfaces, and moved on to the basics of electronics.
Many students had already worked with electronics theoretically and practically before, but most frustrated by the complexity of a basic setup. So as usual it was great to see the excitement of the students when they got their first little led to blink in no time.
Fritzing in the teaching context was doing a wonderful job, and this way everybody learns Fritzing by learning Arduino and electronics.

On the second day, the students developed their own project ideas, for example media-controllers, musical instruments, a binary clock and even an LED Pong.
They successfully transferred their projects to the Fritzing breadboard view and also made the schematics. The last step for this day was to make a PCB layout out of it and get to know the production export and Fritzing Fab process. The feedback of the students concerning the software was amazing. They liked Fritzing a lot and had some very useful ideas to improve the workflow.
Concluding, I have to say it was a trip I don't want to miss. Martin treated us very hospitably and we are looking forward to return to the Nordakademie.
You can find some more impressions on our Flickr-Stream.