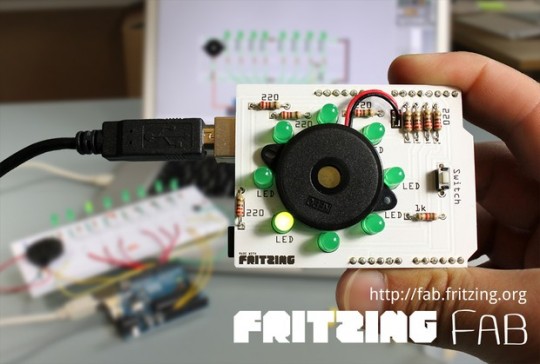 Even though it didn't take us as long as DNF, we are aware that we were a bit optimistic with our previous announcements. But now it's finally here: Fritzing Fab is open for business!
You can now go to fab.fritzing.org and order a PCB directly from your Fritzing sketch. (Just use your Fritzing.org account to log in.)
We hope that you are pleased with how easy the process is. No long lists of parameters – no worries. The prices are very low, too, and the more you order the cheaper it gets.
This new video should also give you a taste how quickly you can turn your breadboard sketch into a sweet custom PCB:
With the opening of Fab we have now come full circle. When you look closely at the photo above, you can see that it is the realization of the original vision sketch that you can still find on our front page. :)
Why did it take us so long? Besides some technical issues, this is a bit of a risky undertaking for an open-source project like us. Because PCB production is only efficient when producing large quantities, this will only work when enough people are ordering. As with the starter kits, all profit goes back into the further development of Fritzing.
So let's keep the fingers crossed and give Fab a try.
Comments from the old blog: