Fritzing is not tied to the use of an Arduino, in fact you don't need to use a microcontroller at all. We are very aware that many communities exist around a wealth of other nice microcontroller boards, and we would like to support them as well!
So with some support from the producers of the board themselves, we are introducing further microcontroller alternatives into the Fritzing ecosystem. In the new release, due tomorrow, you will already get this sweet array of choices: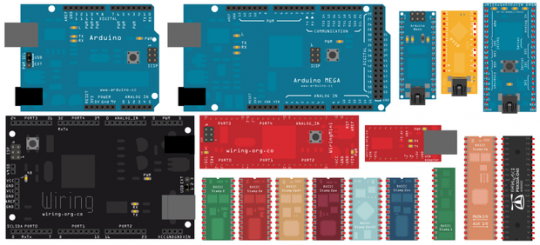 Besides the Arduino and its variants Mega and Nano, you can now use:
Plus, in the community contributed section you can find: the Mignon Game Kit (thanks to Olaf Val), theBare-Bones Board (thanks to Janis), the Pks-01 (thanks to Michael Franz), and the Ardweeny (thanks to Cameron Behar).
And more are coming up!
What does it mean to you?  Well, besides being able to document and share your projects with everyone, this allows you to easily create pcbs for them, either as shields or with a plug for your favorite microcontroller.
Let us know which microcontroller you are still missing, in the comments!
Comments from the old Blog: