Fritzing at the MakeTechX conference 2013 – for the first time Fritzing had a booth at the "conference of tech things that matter, where those who make a difference meet, think & create." What a nice slogan, and nice it was indeed.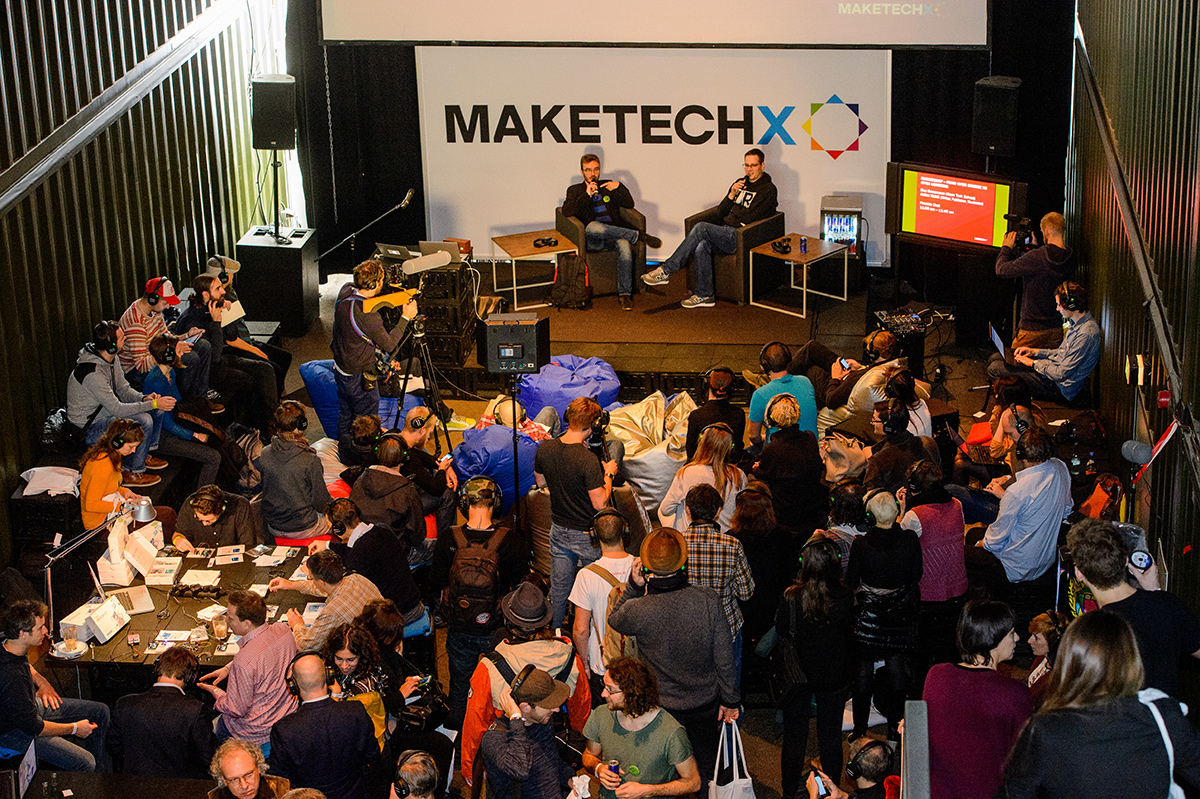 For me it was the first conference I could attend with Fritzing and so I was superexcited and curious what would await us there. We met in the morning at our "headquarters" to pack some last things and finally hailed a taxi at 9 a.m. to drive to the Platoon Kunsthalle in Berlin Mitte where the conference would take place. This was already a great start to the day, our taxi driver seemed to like entertaining his passengers and gave us a lot of secret insights into the Berlin taxi business and we will definitely follow his advice to not only try Red Bull with vodka but also with cherry brandy.
The Platoon Kunsthalle is a very interesting building – actually it is more like a huge and fancy cargo container, created as an experimental space for artists and therefore perfectly fitting the location just next to the White Trash.
The interior felt surprisingly comfortable, the front part consisted of the – definitely necessary to mention – gorgeous café-restaurant-sort of thing with a nice sitting area and the larger back served as presentation and workshop area. There were several booths, and we had one of them! Besides us there was also the Open Tech School, Bitcoin, the Fab Lab, who brought us there initially by ordering some very special Fritzing Kits in a metal case to do an Arduino workshop, and many more, including and not forgetting a whole lot of 3D printers and a transformable mountain/racing/citybike! Awesome!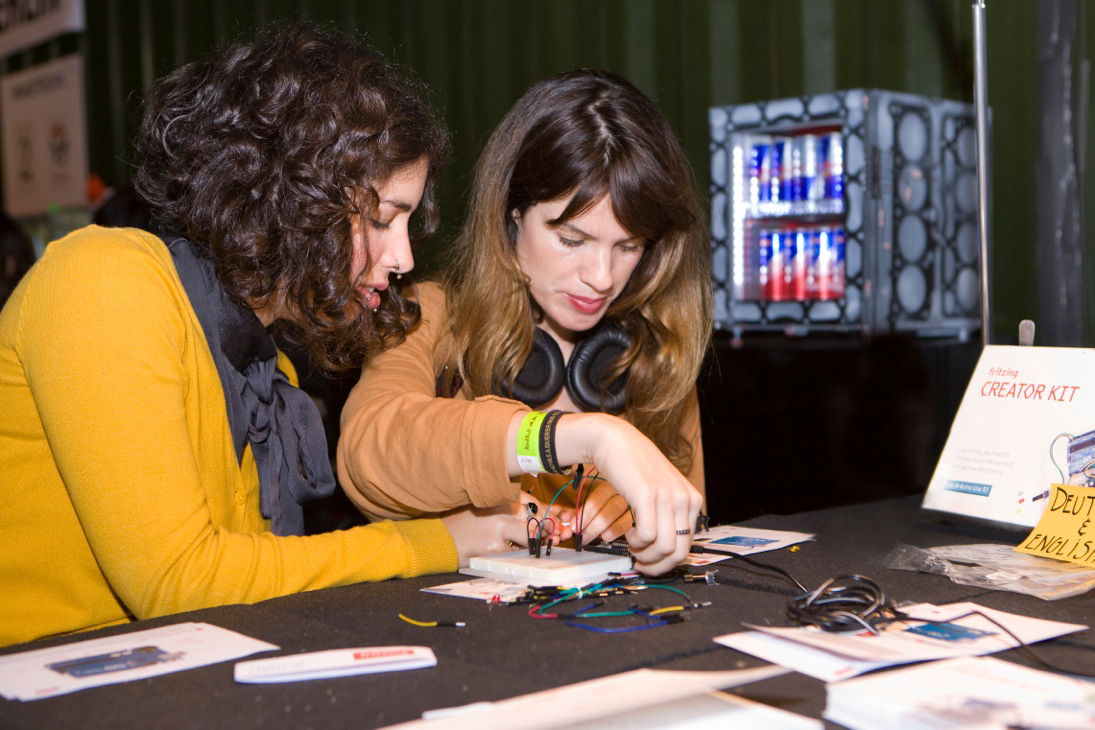 So, as you can guess, maker mood was in the air! Stefan and I prepared the booth with six Fritzing kits as we had prepared a little workshop to make the visitors familiar with Arduino and Fritzing. Soon after the first conference attendees arrived and the speakers started their talks – we then asked ourselves how we should do a workshop while being placed almost on the stage ourselves? Luckily the organisers Lizzy and René Herzer had thought of everything and used a concept I hadn't experienced before – they handed out headphones to the audience and so everybody could listen undisturbed and to their own volume. Though I couldn't listen to the talks anymore at least we now had some peace and quiet to do the workshops (besides that it is really awesome to go to the toilet and still being able to listen to the speaker on the stage…).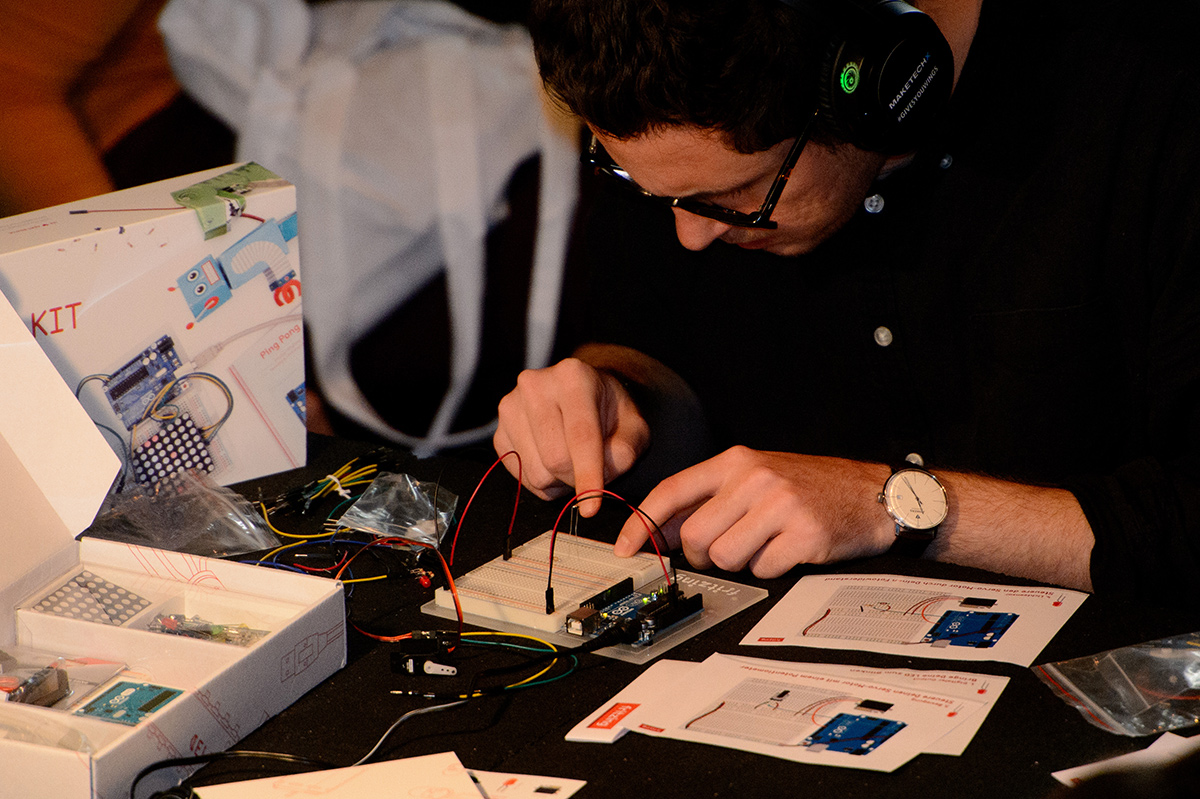 At first I was a bit nervous in assisting in the workshops without being a real Fritzing crack yet, but in the end it wasn't necessary at all. Stefan took over the harder-to-explain bits wonderfully and I learned a lot myself by explaining how it all works. We had a very interesting mixture of workshop participants – some knew the Kits very well already and, after solving our tasks in a mere minute, grabbed our Fritzing book eagerly and started contentedly getting lost in the more complex exercises. What made me very happy was that there were also a lot of people who never came in contact with an Arduino before and discovered how easy and fun it actually can be while saying before "No, no, this is really not my strength, I could never do it in physics lessons."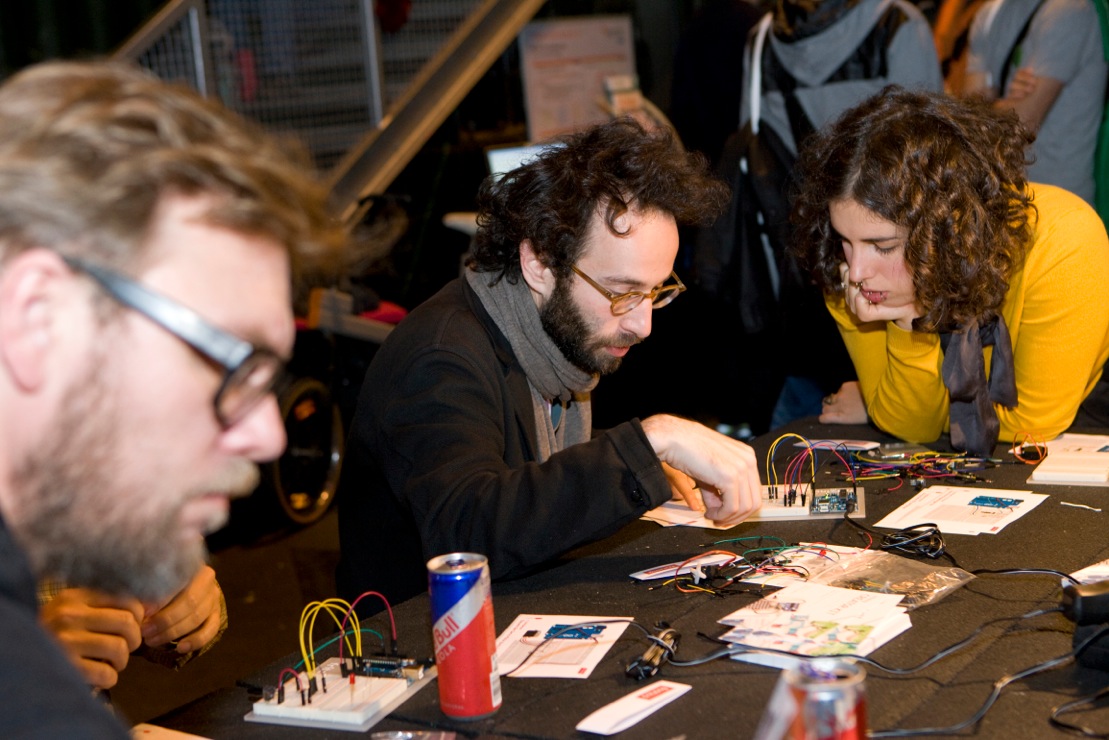 So we left in the afternoon to go back to work, armed with tasty bread rolls and a very good mood, with the feeling of not only us but many more people having had a very interesting and enjoyable Fritzing day.